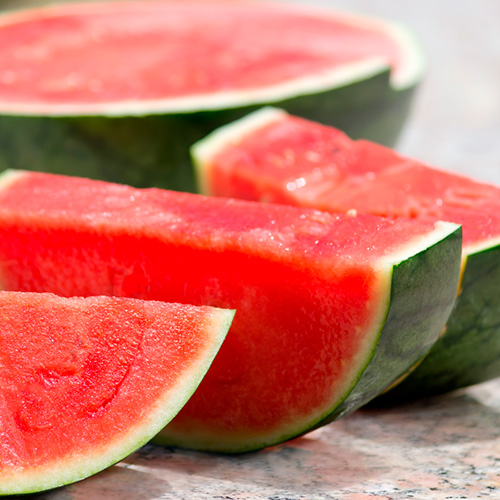 Watermelon
Watermelons are not only delicious fruit for refreshing you and keeping you hydrated but also provide many nutrients. They contain vitamins C and A, potassium, magnesium, lycopene and beta-carotene.
Eating watermelon has a similar effect to an isotonic drink, refreshing and nourishing at the same time. This is due to their high water content (93%) with dissolved oligoelements, minerals, vitamins and a small percentage of sugars. Their consumption is ideal for quenching thirst during the summer months.
Heart. Watermelons combat the accumulation of plaque in the arteries which could cause a heart attack. They contain citrullin, which is converted into arginine, two amino acids that can help to maintain arteries, blood flow and cardiovascular function.
Diet. They are a natural diuretic, and are therefore a good means of eliminating toxins from the body and reducing swelling. Watermelons are low in fat and calories and rich in phytonutrients and antioxidants that are essential for optimum health.
Eyesight. They are an excellent source of beta-carotene, which is converted into vitamin A in the body; this helps to produce the pigments in the retina and protects against macular degeneration. Watermelons also contain vitamin C, an antioxidant which can reduce the risk of developing cataracts.
Inflammation. They have the potential to reduce chronic inflammation, which can be behind diseases such as asthma, diabetes, arthritis, heart disease and certain types of cancer. They have high levels of antioxidants, the objective of which is to destroy free radicals.
Prostate. Higher lycopene consumption is associated with a healthier prostate and less risk of developing prostate cancer. A ripe watermelon can contain more lycopene than tomatoes.
Sport. Watermelons are the favourite fruit of athletes because of their thirst-quenching properties, in slices or in the form of juice. Eating watermelon before a hard training session helps to reduce heart rate and muscle pain.
Sex. They contain citrullin, which relaxes and dilates the blood vessels, in the same way as viagra and other medications used for treating erectile dysfunction.
Rejuvenation. Consuming watermelon can rejuvenate the skin and its high lycopene content has been shown to reduce the risk of sun-related skin damage by 40%.
Energy. Because of its high vitamin B6 content, eating a portion of watermelon every day raises energy levels by over 20%. It also contains magnesium, a mineral that helps cell function.
Urinary tract. They are a good option for cleaning the kidneys and the bladder, because of their high water content. Watermelons also contain potassium, which reduces uric acid in the blood and helps to eliminate toxins.